"The standard you walk past is the standard you accept."
Women are part of the armed forces. There seems to be no shortage of Manly Men, obviously, who seem to have a problem with that.
This is how you deal with it, the Australian way:
Chief of Army Lt.-Gen. David Morrison: Message Regarding Unacceptable Behaviour
Great quote:
If you become aware of any individual degrading another, then show moral courage and take a stand against it. No one has ever explained to me how the exploitation or degradation of others enhances capability or honors the traditions of the Australian army. I will be ruthless in ridding the army of people who cannot live up to its values and I need every one of you to support me in achieving this.

The standard you walk past is the standard you accept. That goes for all of us, but especially those who by their rank have a leadership role."
In the meantime on a different planet, this is how you not deal with it, the American Way: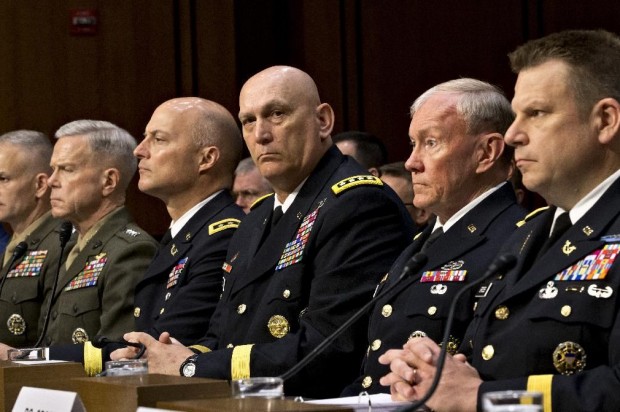 "Joint Chiefs' Responses During Sexual Assault Hearing 'Stunningly Bad,' Says Senator"
Quote:
Senators from both parties pressed the leaders, at times using strong language, about why, decades after the full integration of women into the military, the problem seems to have worsened. […] Over hours of testimony, each officer expressed remorse. […] But they collectively resisted some of the more robust changes that have been proposed. "I recommend a measured approach," said Gen. Ray Odierno, the Army chief of staff.
"Measured approach," my ass. What a disgrace.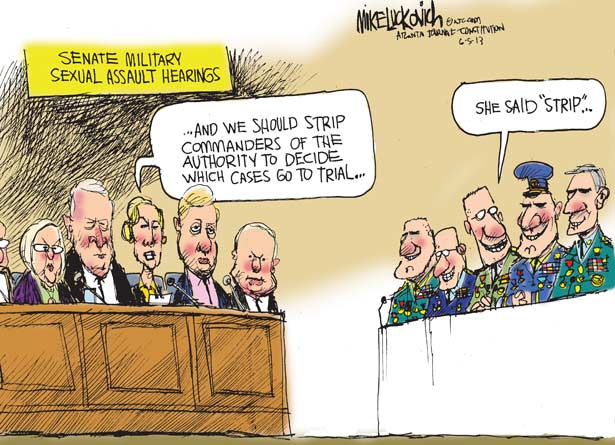 6/5 Luckovich Cartoon: Double Meanings
One more thing: when I first shared Morrison's message on Facebook, Corvin commented:
Well said. Also, the man looks intense. I think he blinked maybe 3–4 times in the whole video.
Indeed. If I converted his attributes for the Twilight:2000 roleplaying system, he'd be a heck of a bad-ass NPC.

Tagged as: gender issues, politics & history