Buchcovergestaltung: Zwei Welten, ein Gedanke?
Griseri, Paul. Management Knowledge: A Critical View. New York: Palgrave, 2001.
Schätzing, Frank. Der Schwarm. Köln: Kiepenheuer & Witsch, 2004.
Es gibt bestimmt eine einfache Erklärung …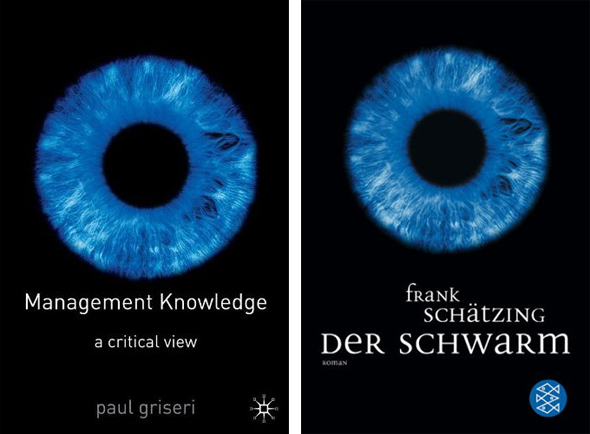 … aber möglicherweise nicht die spontan naheliegende.
Mehrere gute Gründe sprechen gegen ein Plagiat, und alle betreffen das erscheinungsmäßig frühere Griseri-Cover. Meine Hardcover-Ausgabe sieht völlig anders aus, das Motiv ist untypisch für Publikationen aus diesem Verlag, die Gestaltung insgesamt scheint für dieses Themenfeld nicht plausibel und die Typographie ist mehr als amateurhaft.
Was könnte passiert sein? Meine Hypothese: Irgendwann muß irgendwo irgendjemand dieses Griseri-Pseudo-Cover für den Online-Handel "zusammengehackt" haben, weil das echte Cover nicht als Bilddatei vorlag (Bücher ohne Bild verkaufen sich nicht gut). Dieses Cover muß dann auf irgendeine Weise, möglicherweise bei Amazon, in eine der führenden Buchdatenbanken gerutscht und dort bis-daß-der-Tod-uns-scheidet mit der dazugehörigen ISBN verbunden worden sein. Und aus Amazons API wiederum bedienen sich dann alle Online-Dienste, Online-Bibliotheken und Online-Händler, um über die ISBN-Nummer automatisch das Cover einzubinden.
Ich gebe zu, diese Hypothese hat zu viele "wenns" und mißachtet damit das Sparsamkeitsprinzip von Occams Rasiermesser. Aber trotz meiner allseits bekannten und mit einer Auswahl an Zitaten unterfütterten maximalen Aversion gegen diverse Unter- und Obertöne und den generellen Stil von Schätzings Schwarm kann ich nicht plausibel annehmen, daß hinsichtlich der Buchcovergestaltung ein Plagiat vorliegt.
Wenn es tatsächlich so ist, wie ich denke, können wir daraus wieder eine Lehre ziehen über die (Quasi-)Monopolisierung digitaler Dienstleistungen: nicht nur sind alle Amazon-Seiten und sämtliche Partner und Affiliates davon betroffen, sondern auch alle anderen Buchhändler wie zum Beispiel Barnes & Noble, Social-Web-Bibliotheken wie LibraryThing und sogar der herausgebende Verlag Palgrave Macmillan selbst. (Wenn es nicht so ist, wie ich denke, können wir natürlich eine andere Lehre ziehen.)
Und was unternähme ich als Autor in einem solchen Fall, wenn mein Buch überall auf der Welt mit einem amateurhaft gestalteten, pseudoplagiierten Cover feilgeboten würde?
Brazil läßt grüßen.
Feel free to comment (if still open), or join the conversation on Facebook, on Google+, and on Twitter!
Filed under: books (fiction), books (marketing), raps & reviews